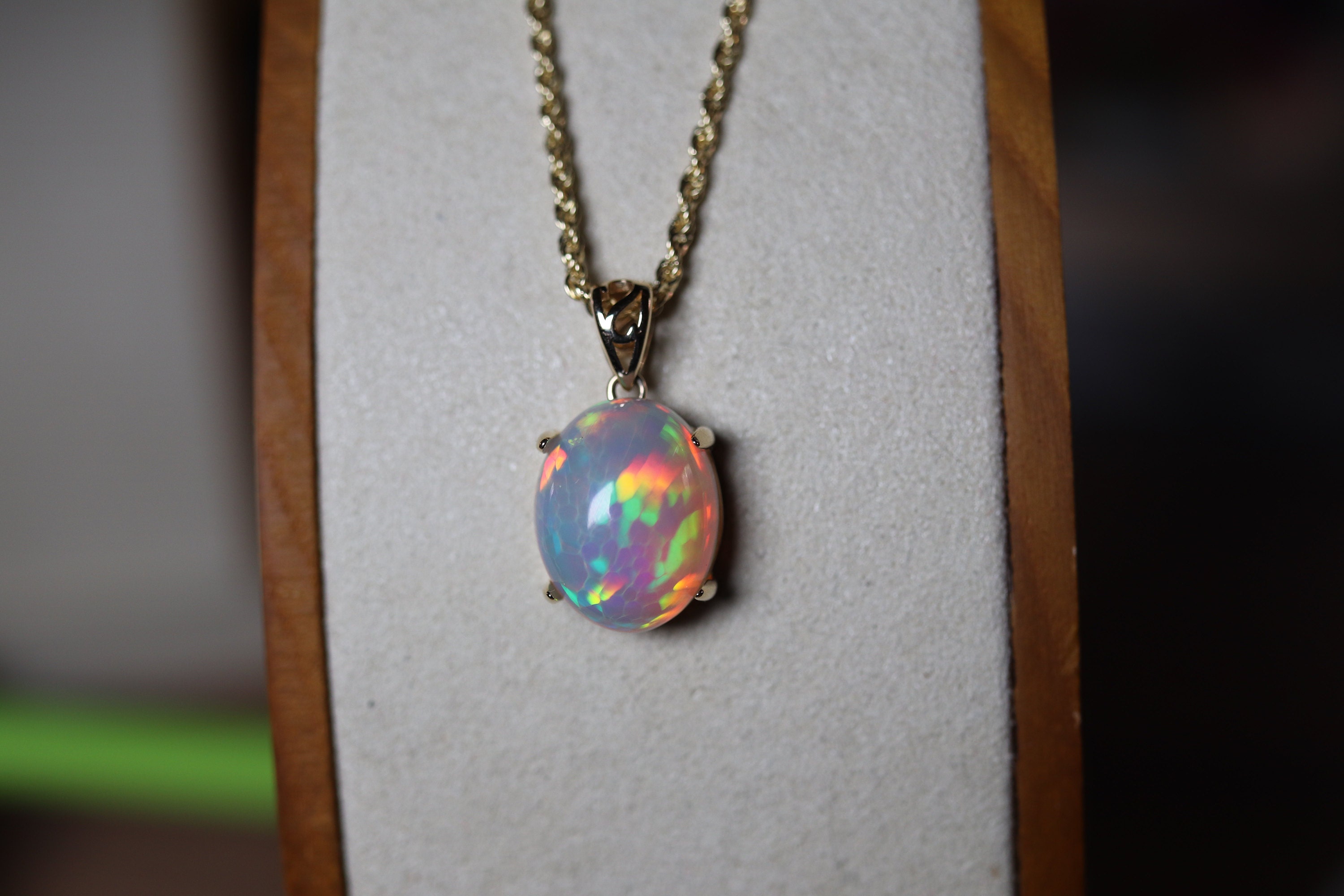 ▪️I use only precious metals such as solid 14k yellow, rose and white gold, 925 sterling silver, 14k gold filled over silver finished option for some jewelry settings. 
▪️All Kissed By Fire opals are 100% NATURAL, EARTH MINED, SOLID (I do not use doublets or triplets) and are sourced from a network of highly skilled professional small businesses whose practices are ethically sound, transparent and SUSTAINABLE. 
▪️I never use doublets or triplets opals or lab grown and man made synthetic gemstones except for Moissanite which is produced in a highly specialized facility that utilize the latest advances in science to create the Earth's most brilliant gemstone. 
I test precious metals and gems for authenticity, carefully inspect them and pick only the best flawless stones to use in my Kissed By Fire Jewelry Designs. 
▪️I offer the highest quality moissanite available on the market today and my new moissanite engagement and bridal jewelry collection includes moissanite gemstones that come with come AUTHENTICITY CERTIFICATE and a limited LIFETIME WARRANTY provided with every purchase. For existing moissanite jewelry authenticity certificate and lifetime warranty are available upon request only 
▪️I use the newest industry standard for manufacturing gorgeous looking and tarnish resistant 925 sterling silver jewelry settings which are 14k white gold or rhodium plated over sterling silver surface 
- the process which improves appearance, resistance to oxidation and requires less maintenance for your silver jewelry to look great and maintain its polished finish for a very long time. 
▪️Although I have professional manufacturing partner, ALL OF MY DESIGNS ARE ORIGINAL and EXCLUSIVE TO MY SHOP.  Every single piece is unique and was designed for comfort and elegant versatile look that is tastefully crafted to focus on the beauty of the center gemstone. The simplicity of my designs is achieved through perfecting each and every detail and measurement to create a flawless combination of quality and impeccable style. 
▪️You will enjoy my new 14k solid gold collection of moissanite jewelry sets and genuine opal engagement rings that are being added to the inventory over the next year: it is a beautiful addition to my existing sterling silver opal jewelry collection that is currently available in my shop's listings. 
▪️I always take my own photos for all of my product listings, and never rely on stock photos to show my jewelry: please use caution when coming across the same photos used by other sellers, because it is impossible to stop dishonest people from stealing my work. The only thing I can do is to warn people to stay away from all the vendors who are using my photos without my permission.
Gemstones:
NATURAL OPAL:
- All of the opals I sell in this shop are natural, earth-mined, solid, untreated and cut by hand - not a machine resulting in each gemstone being a unique gift from Nature - each stone is different and one of a kindThe opals I use are sourced only through suppliers who use ethically acceptable and environmentally sustainable practices in their operations; - Only the best quality grade natural opals get selected for my jewelry line with the top brilliance, brightness, intensity and range of colors, which form the beautiful play of color or fire you can see in the high quality grade natural opals. 
The standard quality grade of any natural opal offered in my shop is AAA (this is a high quality grade, and is "standard" for my shop only, which is different from other stores) with a few of one of a kind unique AAAA opals, which I enjoy having in my collection as the special items that instantly draw attention, and which you definitely cannot find anywhere else. Some AAAA stones are large, and are listed individually, but a lot of smaller stones out of this category are used in making many of my unique sterling silver ring designs. 
- Natural fire opal has been my passion and therefore somewhat of a specialty, and this gem is still used as the most important element of my entire jewelry collection. Exceptionally high quality of my natural opals makes my shop different from others and allows me to maintain my distinct identity among so many sellers making unique and beautiful handmade jewelry. I really dedicate a lot of time and effort to finding the highest possible quality grade opals as well as entirely unique and one of a kind natural opals that are typically not available in most shops, who also sell opal jewelry. I have to pay a lot more for the priveledge of having the top quality stones, but I don't care about the price as much being a true "opalholic", who is constantly looking for something original that I have never seen before, or for those flawless pin fire glowing stones, which occur in less than 10% of all raw opal that flows through the hands of each supplier I work with. I never purposely buy average quality opals, but they do find their way into my inventory with every batch, so I have a different store where I sell those opals, so I do not have to bring them to this shop, which only features the best of everything I have to offer.
-Since the time I opened this store, I added other natural gems to my selection, but the general approach towards maintaining a high quality standard of ALL of the gemstones I use, remained unchanged, and I am always trying to do my best for my customers, and if possible, impress them with something truly original, unexpected and always beautiful.
_________________________________________________________
BLACK OPAL - A UNIQUE GEMSTONE with ELUSIVE SUBTLE BEAUTY 
This gemstone is often misunderstood especially by first time buyers, who expect it to look exactly like the photos from the listing and this is impossible, because the black opal's Fire is not revealed in its full potential unless it is placed under the direct light source. Any black opal is going to look BLACK first, and then show the colors , which are a process that can be observed during movement but not captured on a photograph. This does not mean that the opal is of low quality - I had to explain this issue quite a few times, so I would like to elaborate on this here, so it is no longer considered problematic. 
______________________
All of my black opals are actually very high quality and are extremely hard to find, so to see the colors like that on regular basis in a black opal is truly one of the most difficult parts of my work effort. I don't sell average quality stones, so please don't let yourself fall under the assumption that you will get the same black opals everywhere or that this is a standard look for an average black fire opal. Nothing can be further from the truth: most black opals have predominantly green, blue or darker navy colored base tone which is quite dull and utterly unimpressive. 
_________________________
Even though my black opals are typically much brighter than most - they still look dark which is absolutely normal. Please keep in mind that this gemstone is actually "black". It is very hard to find the opals with bright vibrant fire and there is a certain limit to that brightness that you have to accept if you are looking to enjoy its mysterious beauty. Taking photos of a black opal is possible only under direct light source, and the photos show ALL OF THE COLORS an opal has or its full potential. However, in real life you will rarely see all of the black opal's colors visible AT ONCE with the same intensity as you can see on the photographs. This is absolutely normal and is to be expected when you receive your piece of black opal jewelry. 
The opal has to have dark base tone which is essential for creating the background contrast that allows us to enjoy its play of color. The darker the base tone the brighter and sharper the colors will appear. Because of this any good quality black opal looks dark under natural light which limits the color visibility significantly. To view all of the opal's colors in full display please place it under a direct artificial light source such as a table lamp and enjoy the vibrant display of colors that is unique to each opal. All those colors will be seen interacting with the light while in motion - the opal 'comes to life' when being worn and captures attention by the interplay of flashes of color and shining sparkling lights that give black opal its striking mysterious and unique kind of beauty that is unrivaled by any other gemstone._
__________________________________________________________________ ▪️Since I'm working with natural gemstones, which are cut by hand and not by machines, some stones might have slight irregularities in their shape, which are not noticeably affecting the overall appearance of the jewelry. Some very small inclusions or tiny imperfections are also sometimes present within a natural opal, but they are so small, that they are not visible with the naked eye. Occasionally there might be a tiny scratch that is visible only under magnifying glass or a tiny spot on the side of the stone and I would allow it to be, because of the opal's overall beauty and rare amazing play of color. Singularly beautiful opals might have tiny imperfections, but their beauty makes up for that, so a tiny spot becomes really insignificant when you look at the whole picture and evaluate the stone itself. I do not use stones with very apparent defects or marks - this either will be mentioned in the description or it can occur due to a mistake or omission, which I will be happy to correct as soon as you bring it to my attention. 
_________________________________________ MOISSANITE: - Moissanite stones are being the subject of my interest due to the opportunity to purchase moissanite in bulk and selecting only VVS clarity DEF, GH white moissanite to represent my own brand: Kissed By Fire Moissanite. - Colored Moissanite is being brought to you in a variety of pure exotic colors full sparkling fire, which can be a stunning centerpie for a one of a kind engagement or a special anniversary gift.- Moissanite gemstones are set into 925 sterling silver or solid 14K gold settings and offered at the most affordable price you can find at any shop offering comparable quality jewelry- White moissanite is a 100% identical in its appearance to a very high quality natural diamond, but is conflict free and is sustainably produced with no negative impact on the environment, without the need for forced labor and other inhumane cruel practices, which are associated with the natural diamond mining industry where the greed of the few has been causing unimaginable suffering for millions of people for centuries....
-Moissanite is the future in the engagemend and wedding jewelry industries  having the same unparalleled beauty as usually can be found only in the top grade rare quality diamonds that only a select few could afford. This gemstone is a revolution in the entire concept of diamond's exclusivity, because thanks to the scientific progress and human ingenuity, people like you and me can own something so majestic - moissanite does not only look like a natural diamond, but is also extremely close to it in its physical properties and chemical structure;
_____________________________________
Metals: 
- Only solid precious metals are used in creating my jewelry: 925 sterling silver, 10K or 14K solid gold in rose, yellow or white; - I only use real gold filled over 925 sterling silver type of mixed metals unless specified otherwise in the listing description;The difference is that only solid 925 sterling silver is used as a base metal with 14K gold being chemically bonded to the silver, so the finish is not only creating a certain look identical to solid 14k gold, but offers gold's durability and other useful properties available for a more affordable price;Gold plating will easily peel off and gold plated finish is different from the true gold filled jewelry;- I source my chains and jewelry findings from a US based reputable manufacturer with a guaranteed authenticity of their 925 sterling silver and gold filled setttings and chains. - I try to use mostly white gold/rhodium plated over sterling silver finished silver jewelry setttings whenever possible and eliminate just sterling silver unplated settings due to the tarnishing problem; This takes some time, but I am moving to having all of my settings plated with rhodium, which significantly improves durability and preserves the polished lustrous finish of the new silver jewelry look for years with its scratch resistant properties;
__________________________________________________________________NATURAL GEMSTONES HAVE TINY IMPERFECTIONS Since I am working with natural gemstones, which are cut by hand and not by an automated machine process, which produce identical flawless, perfectly shaped stones indistinguishable from one another by thousands, you might notice very slight shape irregularities, very small inclusions or tiny imperfections ( minuscule color spots, color pattern interruptions) that are occasionally found within a natural gemstone, inside your gemstone as well, so I would like to let you know here that it is quite normal and is not a valid reason for concern because of the natural origin of a gemstone, and nature, as we well know, does not produce anything that is identical or too perfect as the artificially made and devoid of their earth binding soul and character products. 
The truth is that the small irregularities and minute details that you might occasionally see within one of my gemstones are so small, that they are often not visible with the naked eye, and, therefore they do not significantly reduce the market value of a real earth mined gemstone. But they do serve a purpose of indicating that a gemstone is indeed a genuine one and is 
Please keep in mind that I am not in the market for selling flawless and absolutely perfect colored gems which belong to a very high end, nearly perfect category and are extremely expensive, but I sell good quality affordable natural colored gemstones, so it is expected to notice tiny impurities within the stones or extremely small inclusions, which have to be there to make these gems more affordable in the first place. 
So, there is no need to be unreasonably picky and study each gemstone under a strong magnification lens to ensure the quality - small imperfections are considered acceptable and give each gemstone an earthly feel. Besides, there's a correlation between the price and the clarity of each gemstone, so it should be always taken into account that you are paying a modest price for your jewelry, so if you notice a tiny imperfection it is quite normal. 
There is a very steep price increase between perfectly clear natural colored gems and the gems which are just as beautiful but still carry an earth's signature in them expressed in the form of very small imperfections that are not visible or barely visible with a naked eye.